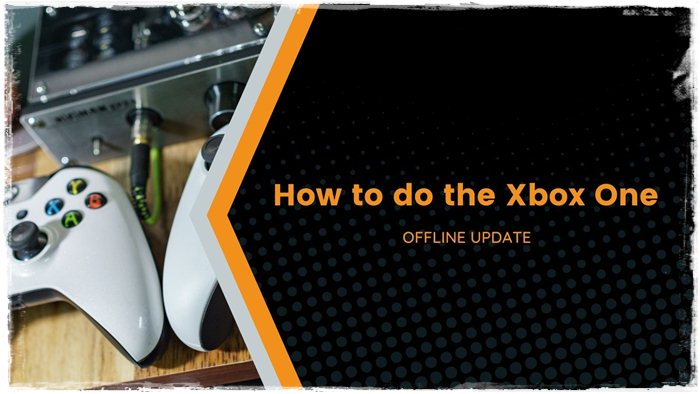 You can update Xbox One to the latest version to get rid of the bugs included in the previous versions. However, if the network connection is not available, you will need to perform an Xbox One offline update. We will show you how to do this job in different situations.
Where would video game consoles be without the Internet?
These days, the Internet is a big part of gaming. You can use the Internet to connect with people from all over the world and play games together. You can also use the Internet to update your games and systems when they are released. You must keep up with the latest updates, so you don't miss anything.
Don't worry; you can still update your Xbox console offline; all you need are some simple tools and information that we are happy to share with you.
Microsoft releases monthly updates for your Xbox One console. These updates include new features and improvements.
Why an offline update?
To stay up-to-date on this and make sure you're up to date, you'll need to keep updating your Xbox One. There are two methods: download and edit online, or update offline. Now that offline updating is possible, it's ideal for people with a weak internet connection or those who don't want to lose anything from their current relationship.
Best way to run an update offline?
What do you need
To update your Xbox offline, you'll need a USB stick greater than 8GB and formatted as NTFS. This must be done on a Windows PC. Slide the USB stick into your Xbox and CLICK HERE to download the latest Xbox system update.
Where is the system file copied?
Once complete, copy the OSU1 zip file to the USB stick. Open the zip file, right-click on the $SystemUpdate folder, then select "copy." now open your USB drive, right-click anywhere in your blank, and select "paste." After you have copied everything, disconnect the USB.
To the Xbox
The next part is essential; make sure your Xbox One console is turned off.
Plug in your USB drive.
Then, while holding down the Eject and Bind buttons, press the power button once.
Hold down the eject and pair buttons until you hear two startup tones.
Upon hearing this, you will be presented with the Xbox Startup Troubleshooter interface.
Select Offline System Update from the dropdown menu.
And finally
The update will start. This takes a while to complete, so be patient and let your update do its thing. Some of your console's features may restart multiple times during the update process.
This is normal.
After that, you should be back on the home screen once the update is complete. You have successfully updated your Xbox One!
If you ever need help fixing your Xbox, remember our team at consoletherapy.com is here to help.