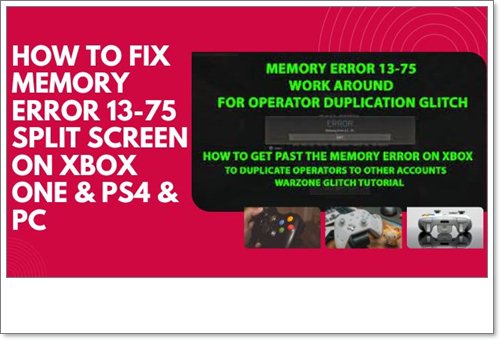 The Memory error 13-75 is a common issue for many Call of Duty players on Windows PC, PS4, and Xbox. What Is this error? How can it be fixed on Xbox One & PS4 & PC? You'll find the answer in this article from Goldendome.net.
What Is Memory Error 13-75?
The memory error 13-75 bug has been a causing difficulty for some players of Call of Duty Modern Warfare and Warzone as it prevents them from loading the game or being added to clans.
Today, we will discuss how to fix memory error 13-75 on Xbox One, PS4, and PC. This error can have many root causes.
How to Fix Memory Error 13-75 Xbox One?
There are four steps to resolving the 13-75 Xbox One memory fault. You may attempt each one separately until the problem is resolved.
Way 1: Use a Different Xbox Live Account
This technique has been utilized by many Xbox gamers. All you have to do is create a new account and use a new Gamertag. After you've completed the first stage, open the multiplayer game.
Then press the Xbox button, then move left until you come across the old Gamertag that is linked to the memory problem, and switch to it.
You can now join your friends in the social game menu. The game should run smoothly after you do so.
Way 2: Disable Crossplay and Leave a Regiment
If the first solution doesn't work for you, consider this one. You can try restarting Crossplay and then launching the game again. While you're still getting memory error 13-75 Warzone, go to the Offline menu with B key.
Go to account settings and disable Crossplay.
Return to the main menu and try playing online again until you get an error message saying that Crossplay must be enabled.
Exit the game and go to the social menu, leaving your clan while still in this menu..
Enable Crossplay under settings again from the same location where you disabled it earlier.
Once you are finished, restart the game and see if the Warzone memory error 13-75 Xbox one has been fixed.
Way 3: Delete Saved Game Data
To delete your Warzone game data and fix memory error 1375 Xbox one, follow the steps below:
To delete a game save on your Xbox, follow these steps:
Open the Xbox Home menu and navigate to Settings > System > Storage.
Click Manage storage on the right side of the screen and select View contents.
Highlight the game you want to delete, then press the Menu button and select Manage game.
Click Saved data on the left side of the screen
Click a game to access its saved data files . You can choose which files to delete here- be sure To check file information so you don't accidentally delete the wrong one!
Way 4: Delete and Reinstall Warzone
If nothing else works, try removing and reinstalling Warzone.
How to Fix Memory Error 13-75 on PS4?
Users on the PlayStation 4 experience memory issues 13-75. You must close the Modern Warfare app and log off in network settings before reopening it after receiving a memory error 13-75 notification.
If you see a "Connection Failed" notification, follow these steps:
Step 1: Close the Modern Warfare app. Then go to network settings and switch your status to offline. Reload the game once more.
Step 2: From the options, choose "Go Offline."
Step 3: Connect your game to the internet again.
Step 4: Ignore any regiment invitations and continue playing without joining a regiment.
Tip: We recommend that you quit any Regiment you have previously joined and block any future invites until the problem is fixed to avoid this from recurring.
How to Fix Memory Error 13-75 on PC?
Memory error 13-75 isn't just an issue on Xbox, it also affects PC gamers. Luckily, we have two ways to help you fix the problem on your computer.
The first way to fix memory error 13-75 for PC gamers is by uninstalling and reinstalling Modern Warfare on Blizzard's Battle.net launcher. Then, run the game in safe mode after it has been updated.
The second approach is to perform a clean boot.
Conclusion
If you're seeing the memory error 13-75 when trying to play Call of Duty: Warzone, there are a few things you can do to try and fix it. Restarting Crossplay and leaving your regiment are two possible solutions.
If neither of those work, you can try deleting your saved game data or uninstalling and reinstalling Warzone. With any luck, one of these methods will help you get back into the game and finally start playing!