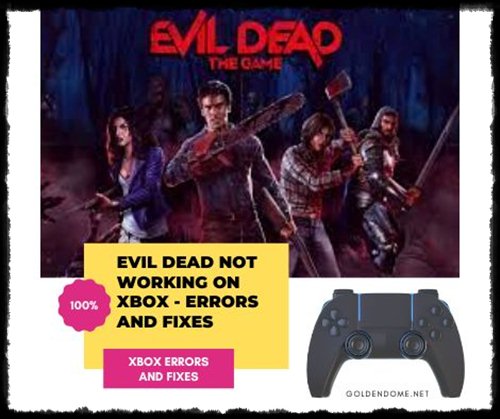 Evil Dead Not Working on Xbox – Errors and Fixes
The long-anticipated Evil Dead game has now launched, but some Xbox users who have purchased it are having difficulty getting in. If you're among them, we've got some advice on how to fix the problem of Evil Dead not appearing on Xbox.
In this Evil Dead article, we'll go through the exact problem that Xbox gamers seem to have when attempting to play the game. After that, we look at how you can fix the situation so you can get into the game as soon as possible. We should clarify that there is no short or simple solution to this issue; it's a real shame for those who already own the title on Xbox.
I'll answer some of the burning questions you may have about Evil Dead, including whether or not it's still coming to PS4 in 2021, and if single-player will be included. In addition, we've got the answer on whether or not Evil Dead crossplay can allow you to play with your buddies on different platforms.
Why Is Evil Dead Not Working on Xbox?
Owners of the Evil Dead Xbox game are reporting difficulties in actually loading into the game. Despite having paid for and pre-loaded the game, when they try to pick it up, it will not start up.
This is a pretty typical error, and it won't come as a surprise to anyone that it's annoying. Because gamers on other platforms do not appear to be facing this problem, it's an oddly Xbox-specific issue.
All of this serves to muddy the picture somewhat. It's possible that an individual's console is temporarily banned, making it appear as if some Xbox users can get on while others can't.
How Do I Fix Evil Dead Not Working on Xbox?
Simply said, there is currently no solution for the Evil Dead not loading on Xbox issue. The good news is that Saber Interactive are aware of the problem and have a fix in the works, but it will take some time.
Some Xbox players have been locked out, according to Saber Support, because of a "system error." The problem isn't going away any time soon, but it should be fixed within the next few hours. They claim that those who were struck by the outage will be able to play Evil Dead again at 8 AM PT/11 AM ET/4 PM BST.
As a result, while you won't be able to repair the damage immediately, it won't take long for it to be resolved. You'll be able to get into Evil Dead within just a few hours if you so desire. Maybe play through a little bit of Chapter 24 in Dead by Daylight before everything returns to normal as a thriller fix.
Meta Announces $2.8 Billion Loss On VR Tech Following Headset Price Increases
While many have recognized VR Gaming's potential to play a significant role in gaming's future, it appears that the technology is presently going through some difficult financial challenges.
After the price of Meta's most popular VR headsets increased dramatically, the firm formerly known as Facebook revealed some concerning information about its virtual reality division, known as Reality Labs.
According to CNBC, this sector lost $2.8 billion in the second quarter of the financial year, which ended in June.
VR We Going To Have A Problem?
Meta's financial performance, as revealed in a separate Goldman Sachs report, isn't unique to the VR sector. The company's overall numbers were called "surprisingly weak," according to CNBC.
Nonetheless, for individuals hoping that VR headset prices would reduce as the technology matures, allowing more people to enjoy it and leading to greater interest from gamers and game publishers, finding out that Reality Labs only made $452 million in revenue over the last year is not good news.
Given this, it's particularly concerning given that Meta owns the present most popular VR headset on the market, as documented by recent Steam hardware survey data, which corroborates claims with regard to the Oculus Quest 2.
Around 49% of Steam VR gamers presently own the Meta, relegating the Valve Index HMD headset to a distant second place with around 15%, and it's unlikely that Meta's flagship will improve significantly on this number anytime soon, with both available versions of the headset's prices set to rise by around $100/£82.
CNBC reports that Meta's VR loss was "a significant but affordable cost," suggesting that consumers may be wondering why such an increase is required right now.
Make sure to subscribe to our channel for more VR gaming news and information on the newest gaming hardware.
What Is The Max Level In Evil Dead?
There must be a level cap in Evil Dead: The Game, which has skill trees and abilities to improve. There are levels for the survivors and the monsters, as well as classes, and all of them have limits. Reaching maximum level in Evil Dead may appear difficult, but we've got the information on each of the caps and the shiny accolades at the end to help.
It's crucial to understand how far you can go in the game and where the maximum power is. As a result, you'll be able to prepare ahead of time and work around that objective, no matter what cap you're aiming for. Some caps haven't been touched by players yet, so they remain unknown. Once we figure them out, they will be updated to inform you.
If you're looking for more Evil Dead content, be sure to check out our guide for multiplayer hints. Are you having trouble locating that pesky map piece? We've got you covered there. Finally, see how to access the extra survivors so you can play with all of the different characters and have fun.
What Is The Maximum Survival Level?
When you play the game as a survivor, you earn character XP and spirit points. The character XP is automatically transferred to the previous character that you played in the match.
Points may be spent on character levels by heading to the collection screen. The maximum level is 25. You can earn the "Ave to the King" achievement by achieving max level.
What Is The Maximum Demon Level?
The maximum demon level is 45. Although, a known bug in the game prevents players from obtaining the trophy for reaching level 45 without being nearly there.
The achievement is called 'We Will Be Again.' You raise a demon's level by using spirit points in the same way that you do for survivors.
What Is The Maximum User Level?
There hasn't been a player yet who earned the "Groovy" achievement, so we don't know what the maximum user level is. We'll update the article when we figure out what the highest level is.
If you found this guide helpful, please consider checking out our Dead by Daylight content. For more information on what's upcoming in the game, check out our Chapter 24 hub. Alternatively, if you enjoy playing the bad guy, read our best killers tier list to see who ranks among the worst of them all.
Conclusion
The maximum levels for survivors, demons, and users have yet to be determined. However, the maximum level for survivors is 25, the maximum level for demons is 45, and the maximum user level is unknown. Reaching these levels may appear difficult, but with our guide, you'll be able to achieve them in no time!