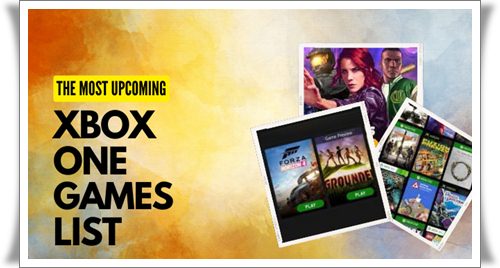 There are still several spectacular upcoming Xbox One games on the way, although we may be progressing through the year. With a few Xbox exclusives and lots of titles coming to Xbox Game Pass, the most recent round of announcements during the Xbox and Bethesda presentation offered plenty more stuff to add to our growing wishlists.
There's no shortage of excellent games on the way, from Final Fantasy 7 Crisis Core Reunion to Saints Row and more.
The biggest upcoming Xbox One games are listed below, organized by release date in order to make it easier for you to add them to your wishlist.
All set in release date order so you know what to prioritize on your wishlist first.
The Callisto Protocol (Dec 2, 2022)
You'll play as Jacob Lee in the Callisto Protocol, a fresh horror game from the guy who created Dead Space. You take on the role of Jacob Lee, who has been imprisoned at Black Iron Prison, a maximum-security facility on Jupiter's Callisto moon.
However, when things start going wrong and the inmates begin to mutate into horrible monsters, he must find a way out and try to survive. He'll also unearth some terrible truths while traveling along that will make it seem like it will be quite an adventure.
Dead Space remake (Jan. 27, 2023)
Dead Space will be getting a remake in 2023, according to EA. In the original Dead Space, you play as Isaac Clarke, an engineer who has been sent aboard the USG Ishimura along with a crew to fix it.
Isaac's crew discovers that the Ishimura has been infested with deadly extraterrestrial lifeforms that must be chopped up into pieces to be killed.
The Dead Space Remake will take the beloved gameplay, chilling atmosphere, and terrifying visuals of the original game and rebuild them using the power of next-gen hardware to terrify new audiences and fans alike.
Resident Evil 4 (March 24, 2023)
On March 23, 2023, Resident Evil 4, one of the most critically praised survival horror experiences in video game history, will be remastered for modern consoles. The original Resident Evil 4 revolved around Leon Kennedy's journey to Spain on a secret mission to save the president's daughter, Ashley Graham.
The Resident Evil 4 remake will update the original game's gameplay, improve visuals for enhanced immersion, and add a darker re-imagining of RE4's story to thrill modern audiences.
Valheim (Spring 2023)
Vaheim, a deadly survival game, will be available on Xbox consoles in the year ahead. In a randomly generated world inspired by Norse mythology, join your friends on an incredible journey. Build a magnificent home and confront legendary monsters to win Odin's favor.
Lightyear Frontier (Spring 2023)
In Solareon, you must produce all of the solar power that your planet requires. However, if you want to develop native soil on a storm-ravaged world where sunlight is restricted, you'll need more energy than just lightning strikes!
That's why Lightyear Frontier is a resource management game where you go to a world at the edge of existence to harvest your own farm. Start your new life as an off-world farmer with three of your friends to grow alien crops, build a home, and tame the animals on this peaceful planet.
The Last Case of Benedict Fox (Spring 2023)
Benedict Fox: The Last Case is a 2D Metroidvania adventure game developed by Plot Twist and published by Rogue Games. You take on the persona of Benedict Fox, a self-described detective who is haunted by a demonic spirit.
They will use their supernatural abilities to explore a plagued manor and discover clues to solve the mystery surrounding a murdered couple and their missing kid.
Meet Your Maker (2023)
The Custodian is a post-apocalyptic first-person shooter/base builder hybrid created and published by Behaviour Interactive Inc., the same team that produces Dead by Daylight. In this game, you play the role of the Custodian, a machine charged with protecting Chimera, a living experiment.
Meet Your Maker is a third-person shooter where players must fight their way through devious levels known as Outposts to reach Chimera.
After you've built your unbreachable fortification, you may enter the wasteland and invade other players' constructed Outposts to steal their Chimera's DNA and feed it to yours.
Fuga: Melodies of Steel (2023)
Melodies of Steel 2 is a follow-up to CyberConnect2's turn-based RPG, Fuga: Melodies of Steel. A year has passed since the events of the first game, and the Taranis tank's children continue to trek across a war-torn landscape.
The sequel will include an improved combat system as well as a new event system that will alter the game's conclusion based on your choices.
Bounty Star (2023)
DINOGOD's Bounty Star is a third-person shooter published by Annapurna Interactive. You take on the role of Clementine McKinney, a former war veteran and mech pilot, who is trying to put her traumatic history behind her and live in peace.
However, for Clem it will be necessary to return to battle to protect the innocent people of the Red Expanse from brigands and mercenaries.
Conclusion
There you have it, the most exciting upcoming Xbox One games to look forward to in the coming year. From action-packed shooters to spine-tingling horror experiences, there's something for everyone on this list.
So be sure to keep an eye out for these titles and add them to your wishlist today. Thanks for reading!