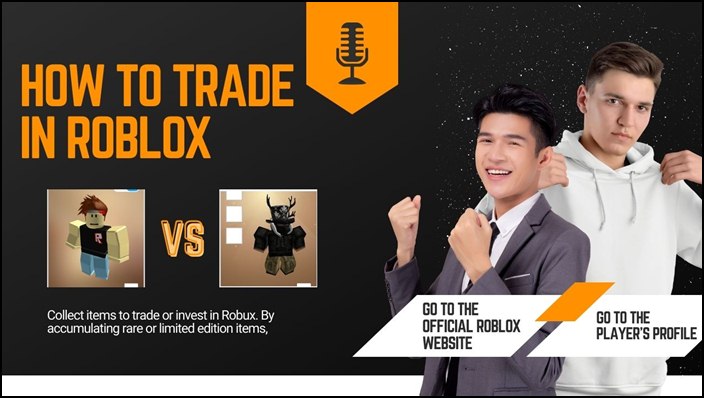 Roblox is a game where you can trade with other players and do things like go on adventures and build your own space.
This comprehensive guide to trading with other players on Roblox will help you navigate the tricky world.
Roblox is a name that many people have heard, but it has been around for over a decade. As of May, Roblox had more monthly players than Fortnite and Minecraft.
There's a lot of confusion about trading on Roblox. Is it even possible? And if so, how?
Is it possible to trade with Roblox?
There are a lot of people who play Roblox. One way to get hold of things is to trade with other players. But you have to pay for it first, and not everyone can because they have to sign up for the Roblox Premium service. When you sign up, you will get more money when someone buys one of your items, and it will be easier to trade with other players.
Roblox Premium comes in three levels. The first level is free. The second-tier costs $ 4.99 per month or $ 49.99 per year, and the third-tier costs $ 9.99 per month or $ 109.99 per year.
Roblox is a game. Robux is the money you use to buy things in the game. Membership levels are different in how much money you pay for Robux each month. If you want to trade with other players, make sure you choose the $ 4.99 level so they can trade with you too.
It is worth remembering that there have been security loopholes where personal information was leaked from people's accounts. Before you buy anything, it might be worth finding out which tier is making the most Robux on your account each month!
You can trade limited items, limited unique items, and Robux. You cannot trade for things bought in other games or make by someone else.
How to trade with other players
After signing up for Roblox Premium, you will need to enable trading in your account settings. To do this, go to the Roblox website and select "Privacy" in the top right corner of the screen. Then press the option "Who can chat with me?" And you will see a drop-down menu. Now you can click on a choice, and it will be saved automatically.
Users can now trade with other players on Roblox. You can start a trade yourself or respond to trade requests from other players. Hopefully, they will make as much money as some people from playing Roblox, the game.
To trade with Roblox, you must:
1. Go to the profile page of the person you want to trade with (use the search bar above)
2. Press the 3-dot button in the top right corner of your box that contains your username.
3. In this menu, select "Trade articles."
4. Select any item (or multiple items) from your list called "Your Offer" or select any item from your list called "Your Inquiry."
5. Click Submit and wait for you to agree.
If the other person is the one who wants to trade with you, they will send you a message. You need to go to the 'Trade' tab and select 'Incoming.' Pick the offer that requires your response, then choose to accept, decline, or counter it.
Roblox is now available for Android, iOS, Mac, PC, and Xbox One.
Conclusion
Roblox has a lot of options for trading on the Roblox website. If you have a premium account, you can trade items and money on the Robux on your account. Always be very careful when trading with other players in Roblox. Make sure before you start trading with people that you know they will not make false promises!
And best of luck with your future adventures!