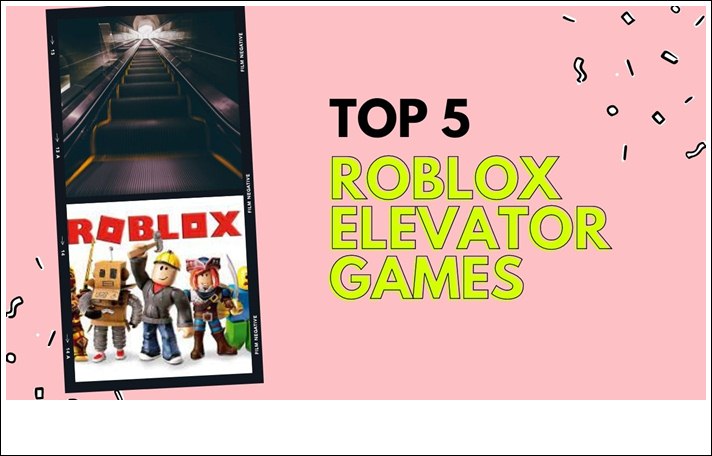 Roblox provides games created by different players. This is a social platform where people can chat, design, and play all sorts of games with their friends.
It's the most popular location to play internet games. Players can instantly start playing anybody out of the hundreds of thousands of games available on its library with a single click. He'll need to finish his profile before he may successfully play these games, like any other platform.
Creating a profile necessitates selecting a name and password and the creation of one's own avatar. Every online game he participates in will have an avatar generated for him. These avatars may also be customized by buying Robux cosmetic items available in the Roblox shop. These cosmetics are available for purchase with Robux, Roblox's in-game currency.
Top Roblox Elevator Games
Roblox lets players make games. You can find all kinds of games in Roblox, like different genres. But it's hard to find a game when you are looking for a specific genre.
While you may still discover a few games, finding great ones is tough. Similarly, we've seen many players struggle to locate excellent Roblox elevator games. Today, we'll go through some of the greatest Roblox games available right now. So let's get started!
The Scary Elevator
MrNotSoHero's Scary Elevator is a fantastic elevator game. The entire game takes place in a creepy setting and encourages the player to explore its 40 stories. Each of these floors has surprises for the player.
The primary aim of the player is to make it through all of these floors while exploring each one. You are looking for a way out, but you're also being hunted. A killer is on the loose, and the player must avoid him at all costs.
Besides the killer, there are other things on each floor. These things serve different purposes. If you collect these, it will help you in different ways. For example, some items may help you fight against the killer or give you a chance of surviving.
The Normal Elevator
The Normal Elevator is a unique game on Roblox. You can do different things in the game than you would in other games of this type. There are no scary things, so it's very fun.
The player begins in this game by pressing the elevator button. The player is required to complete a variety of activities while riding the Elevator. You'll be expected to participate in these mini-activities with other people as a participant. All of the minigames are completely unpredictable.
There are several minigames, including a chicken-eating contest, a basketball game, and more. Because each minigame is generated randomly, you will get a different one each time. It's one of Roblox's most popular games ever created. The game was announced at the end of last year to have
Crazy Elevator
Derpie Studios' Crazy Elevator is a Roblox game. The game was formerly known as Casual Elevator and may still be played on an older version of the software. However, in 2017, it was immediately updated to a newer version called Crazy Elevator.
Every floor in the game has its own set of challenges to overcome. Flood Escape, Gladiator Arena, It's Muffin Time, Reflection, and Fake Mustaches are all examples of such floors. Each floor has a distinct environment and distinct goals that must be completed to advance to the next level.
The Elevator Remade
The Elevator Remade is a hilarious Roblox elevator game that other people can play online. The game starts off in the same way as any other Roblox game, with the player being sent to the main lobby where everyone may come together. However, after the Elevator arrives at a floor, it will reveal which one the
The ultimate goal of each and every floor is different. The game may appear identical to the others on the list, but it has one feature that sets it apart from the rest. This game contains a greater number of floors than any other game mentioned in this article, which is precisely why it's so great.
Insane Elevator
Insane Elevator is the last Roblox elevator game to make our list. The game is scary and really hard. But it is fun!
The player must avoid Piggy at all times while attempting to flee to various stories using elevators. Once Piggy has captured any player, they are instantly killed. As a result, you must avoid Piggy at all costs while pursuing your grand escape.
Conclusion
There are a lot of elevator games on Roblox, but these are the best. Each of them has been carefully crafted to provide players with hours and hours of entertainment. So grab your friends and family members and watch the fun begin!