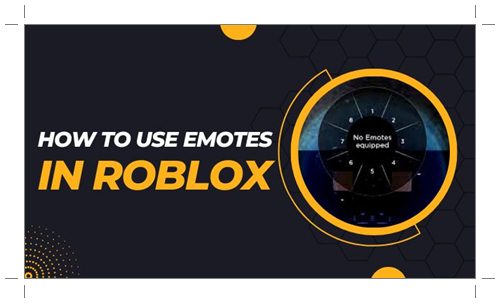 Roblox has created emotes to communicate your feelings while playing games on the site. Continue reading to learn how to utilize Roblox emotes on PC and mobile devices.
In Roblox, games and emotes make for an ideal mix. An Emote is a move that Roblox players can perform in game. The majority of the emotes must be earned in-game before they can be utilized in Roblox.
However, there are a few free ones to try as well. PC and mobile players may utilize the same emote. In only a few minutes, you can set up an emote.
So equip and use emotes on PC and mobile platforms by following these instructions.
How to use emotes in Roblox PC
To play Roblox on your computer, open Roblox on your PC.
Click on the "Catalog" button.
To access the Emotes, click on your user name in the upper right corner of the screen and select "My Account." On this page, you'll see a drop-down menu with many options. The first option is 'Featured Emotes,' which can be found under the "Featured" menu. Choose it. If you click on a Free Emote in the list, it will bring up a window with all the available free emotes.
You can download it for free by clicking the "Get" button. To confirm the download, click on "Get Now." To download each emote, follow these same steps.
To use your newly downloaded emotes, go to the 'Avatar' tab on the left side of the screen. This will open up the Avatar Editor and display all of your recent downloads.
To use emotes, go to the Hermit's Mask main menu and click on any one of them. Emotes may be equipped by clicking on them. Each emote can be used from 1 to 9 times. To select an emote and a number for it, simply pick one and choose a quantity.
To open your equipped emotes in a game, press the 'B' key on your keyboard.
If you hold down any of the emotes' buttons, the program should start functioning.
How to use emotes in Roblox Mobile?
You can easily set up emotes on Roblox mobile following these simple steps:
In order to play Roblox, open the app on your smartphone.
Click on the 'Get' option under 'Featured Emotes" to download them.
Navigate to the 'Inventory' page.
Select 'Avatar Animation' from the dropdown menu under 'Category.'
Under the 'Display Name' drop-down menu, select 'Emote.'
Select the option labeled "Wear." To add emotes to your avatar, you must first equip them.
Now, start a new game.
The emotes will be turned on and activated.
Conclusion
Roblox emotes are a great way to communicate with other players while playing games on the site. You can easily set up and use emotes on PC and mobile devices by following the simple steps outlined in this article.
So equip and use emotes on Roblox today to enhance your gaming experience!