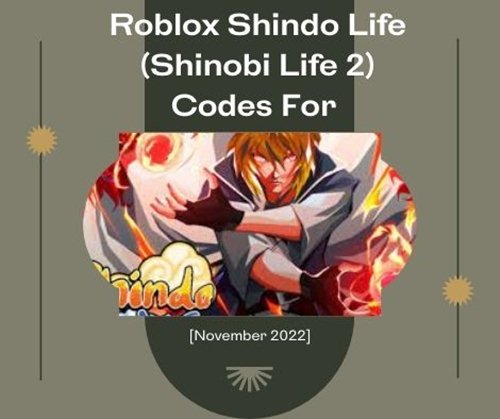 If you're searching for Shindo Life Codes to play your favorite Naruto-themed Roblox game, Shindo Life, here they are. The game has lately been growing in popularity, and players have been looking for codes that would give them a lot of RELL coins and free spins.
In Shindo Life, you'll take on the role of a character renowned for his or her martial arts skills. In this action-packed game, you'll come across Naruto-style figures and explore an environment where you have several chances to engage the bad guys.
Update: Six new functioning keys have been added, all of which may be used to receive freebies, Rellcoins, and spins. Have fun!
Active Shindo Life Codes
| Code | Rewards |
| --- | --- |
| muyHungerb0i! | Redeem for freebies |
| Ragnaarr!  | Redeem for 10k RellCoins and 500 spins |
| Ragnarr!  | Redeem for 100k RellCoins and 500 spins |
| Ragnat! | Redeem for 100k RellCoins and 500 spins |
| verryHungry! | Redeem for RellCoins and spins |
| ShoyuBoyu! | Redeem for RellCoins and spins |
| RamenShindai! | Redeem for 99 Spins |
| RamenGuyShindai! | Redeem for 30k RC |
Active Shindo Life Codes
How To Redeem Shindo Life (Shinobi Life 2) Codes
Shindo Life Codes are a great way to save money on your groceries. The procedure for redeeming those Shindo Life Codes is much simpler than you might assume. Simply follow the instructions and receive your rewards.
Start the game and go to the game's edit area. Tap on any of the code buttons instead of just tapping OK, and then a box will appear.
Paste the code into it by getting the codes from the list below and then hit enter to apply them.
Expired Shindo Life Codes
Codes
RyujiMomesHot!
ShinobiLife3!
c0434dE!
ShinobiKenobi!
fansAppreciatioN!
Shindotwo2! 
RELLYrellcoins!
zangAkma!
ccH0w!
onehunnet!
BruceKenny!
KennyBruce!
PieceSeaLLeR!
RuneKoncho!
VeryStrange!
BeastTitan3!
GenThreeYesson!
SeaARELL!
farmsJins!
ApoLspirT!
Erenshiki!
Johnsuki!
GenGen3Apol!
j1NyErGAr!
OACBlols!
ShUpDoodE!
BiGGemups!
RELLseesBEEs!
rellCoyn!
Gen3When!
SoUwUndKen!
k3NsOuND!
BigOleSOUND!
G0DHPg0dLife!
SanpieBanKai!
SPNarumaki!
SixPathMakiboi!
BigFELLArell!
exclusiveGameModeS00N!
OGreNganGOKU!
VenGeance!
VenGeanc3!
BorumakE!
BigBenTenGokU!
G00DHPg00dLife!
renGOkuuu!
rEgunKO!
SEnpieBenKai!
BigRenGokuMon!
drMorbiusmon!
TenGOkuuu!
TENgunK0!
BigTenGokuMon!
akumaSinferno!
tomspidermon!
OlePonymon!
niceTwiceEXpd!
penguins!
Er3NYEaRgear!
58xp!
MorMor!
BusBius!
MorbiTing!
TenSen!
TensaSengoku!
NewBeginnings!
2022isHERE!
REELdivine!
moreechpee!
RELL2020Year!
RELLsup!
BeenSomeTimeBoi!
2YrsDev!
Spooderman!
HappyNewYear!
Shindo2022!
REELsantar!
REELclaus!
REELcookies!
REELlicks!
REELworked!
PeterPorker!
BullyMaguire!
Spooderman!
Subscribe2CaribBros!
AlphiramaAkuma!
AlphiramaShizen!
Cowabunging!
FannyPacked!
BIGmonLEEKS!
DEEBLEexPE!
UpdateIsHERE!
Pray4Update!
de2001!
de2002!
de2003!
de2004!
de2005!
BelieveOtMon!
ToSleepMon!
bossMonRELL!
bigjobMON!
ShindoBlickyHittingMilly!
BankaiZenDokei!
IeatChiken!
giftFOEdayZ!
bigthickcodeMon!
chillenBuildenMon!
J0eStar!
BankaiDokei!
berryCoolMon!
bigExperienceMon!
howToSleepMon!
RunningfromDeMon!
bigBeardMon!
tingsMonTings!
BigRELLmonCode!
checkmateMon!
RELLC01NZPATCHY!
useDeBrainMon!
RELLniceCode!
CleanAnimsMON!
FiredUpMon!
PetdeDogMon!
poopENhoopyEn!
R3LLPATCHY!
VerifiedTwitter!
HardWokMon!
FlippingWokMon!
LetDeMonWok!
NewEFFECTS!
ShindoGraphics!
EpicGRAPHICS!
BETTERgraphics!
BacktoWok!
ShootingSTarS!
bigUPyup!
shrekT!
shhneckT!
shhcheaKs!
Raioojun!
TaiMister!
chapEmUp!
10MillEXP!
25KR3LLCO1NZZ!
Expired Shindo Life Codes
Conclusion
The codes mentioned in the post are a great way to get freebies and Rellcoins in the game Shindo Life. The process of redeeming these codes is very simple and can be done by following the instructions given in the post.
These codes can give players a lot of advantages in the game and help them progress further. So make sure to use them wisely!