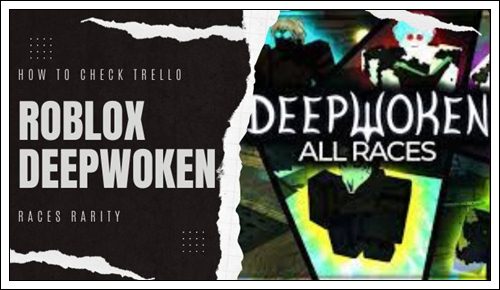 Deepwoken is the newest Roblox game to enter the scene, and fans are looking forward to learning more about it.
We get new Roblox games on a regular basis, and there are several developers working diligently to provide new material for players. Deepwoken became available recently, and it has already surpassed expectations among fans.
The roguelike element adds a lot of variety, and there are multiple races to choose from, each with its own set of skills. Here's everything you need to know about it.
Adret (18.6% Chance) – 2 Charisma & 2 Willpower – Has a superior reputation in the beginning with actions and self-taught.
Celtor (18.6% Chance) – Having 2 points of intelligence and 2 points of charisma gives you a 10% discount on the price of ships and makes them cheaper to buy.
Capra (2.3% Chance) – Having 2 Intelligence & 2 Willpower can increase the amount of food you gain when eating, help people nearby rest better, or improve your sanity.
Canor (16.7% Chance) – Reducing the amount of damage your team takes is a good idea. Having 2 strength and 2 charisma will help make this happen.
Etrean (18.6% Chance) – This will help reduce the amount of time you are affected by a status effect.
Felinor (9.3% Chance) – 2 Agility & 2 Charisma – This will help you climb better and make it harder for people to see you when you're sneaking around.
Gremor (14% Chance) – 2 Strength & 2 Fortitude – Gains a Compass and loses hunger slower than usual.
Khan (9.3% Chance) – You are able to use new pieces of equipment than others. You can equip things at 3 points lower than required.
Vesperian (7% Chance) – The Fortitude and Willpower stats give you extra armor in the game. You also wear a mask that you can't take off.
Ganymede (2.3% Chance) – Having 2 Intelligence and 2 Willpower will help you resist losing your sanity.
Lightborn (Unobtainable) – Stonebark Elder is a Dragon race that offers +5 to any Stat, 2 Agility and Intelligence, and resistance to Acid Rain. This species is currently unavailable.
Roblox Deepwoken – How To Check Trello
Apart from the TractionTowers, players may also access the latest updates regarding the game by using a Trello board. To get to the Deepwoken Trello, go here and you'll be brought to a page with all of the details about each card.
Conclusion
Roblox Deepwoken is a new and exciting game that offers players a lot of variety. With multiple races to choose from, each with their own unique set of skills, there is something for everyone in this game.
If you're looking for an immersive and challenging experience, be sure to check out Deepwoken. And be sure to keep an eye on the Trello board for updates on new content!