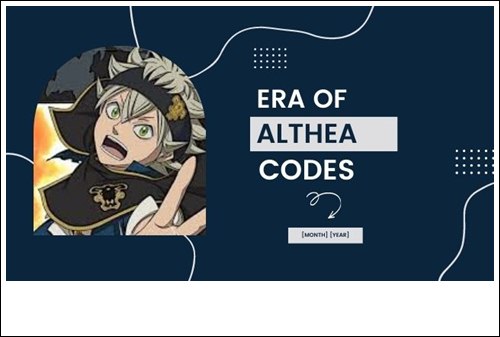 The brand-new Black Clover and Sword Art Online Crossover is now available in ROBLOX, and we've compiled a complete list of codes for Era of Althea right here in this article.
Please note that we removed the description of this code. You may even use expired or old codes, as long as you maintain a record of all ROBLOX game titles where they were used. Make sure to see what other codes are available for ROBLOX games such as Anime Mania, GPO, and others.
This page was last updated on December 17th, 2021. Every code that is currently available in the Era of Althea ROBLOX game is included below. You'll also discover previous codes that are no longer active.
Active codes
NewUpdate?? – Receive 25 spins by redeeming the code.
ShutdownforForFixesA! – Get five free spins by using this code.
2MVISITS! – You can get 15 free spins by redeeming this code.
AhwokenTwitter! – If you enter this code, you will get 5 free spins.
MaineEOA – Get five free spins by using this code.
Expired codes
25LIKES!
4MILVISITS!
MyApologies!
AltheaHype!
ShutdownForFixes!
ShutdownForFixes2!
15KLIKES!
1MVISITS!
SHUTDOWNADOPTME!
EOA
1500Likes
3000Likes
6000Likes2
TrueSupport!
What Is Era of Althea?
Era of Althea is a game that encourages players who enjoy adventure and discovery, according to the official game description on ROBLOX.
In this game, you take on the role of a young boy who happens to be an expert swordsman. This world has numerous trials of perseverance for individuals who want to achieve superheroic abilities and battle dungeon-dwelling monsters.
However, the challenges that they may face will be worth it in the end. The inhabitants of this Realm may improve by going on adventures and learning about its mysteries.
Obtain weapons or abilities to help you win in battle. Join Guilds with your friends to help each other out. Within the world of Althea, there are a variety of ways to weather these challenges.
The newest game, which was launched on May 1, 2021, and is created by AwokenTy and EternalProwessKun, has been updated.
The new Era of Althea game, unfortunately, is only accessible to ROBLOX players on PC. If you want to learn more about the game and play it yourself, go here.