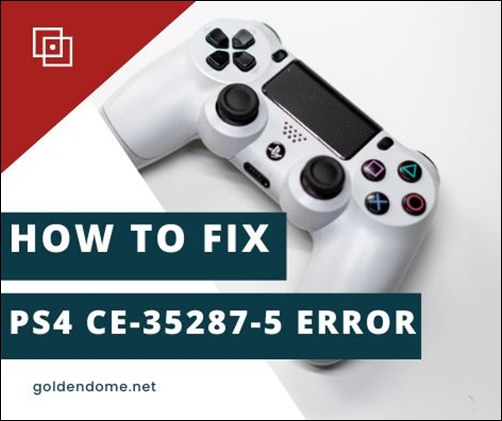 If your PS4 can't connect to the internet, you're unable to access the PlayStation Network, or it's preventing you from playing online games, try following our guide. We'll tell you what this error means and what remedies you may do in this article.
What does error CE-35287-5 mean?
A PS4 login error could be the result of a network issue or something going wrong during downloading. You won't be able to access the PlayStation Network, utilize any PSN services, or play online if you receive this PS4 problem.
The entire message is: This functionality is temporarily disabled. Please try later. (CE-35287-5).
Causes of PS4 error code CE-35287-5
There are a variety of causes for the PS4 CE-35287-5 error.
Let's look at each one in detail.
Server error.
If you were able to connect to the server before, play online with your pals, or make other online activities in your PS4 prior to the problem displaying up, there's a chance that nothing is wrong with your account.
The issue might be due to problems on the server end. PSN servers are sometimes down for a variety of reasons, including outage and maintenance.
Incorrect PSN account username and/or password.
The most frequent reason for CE-35287-5 error is a user problem. The most typical reason for CE-35287-5 error is an account issue.
If you're receiving this message when attempting to log in, you may be entering the incorrect information.
PSN account has not been verified.
If you haven't received the verification email from Sony, it's conceivable that your account is new. This might be a reason to prevent your PSN account from accessing any network functions or to play online with others.
Home internet connection issues.
If you're getting the PS4 error CE-35287-5, there are a number of things you can try. If your ISP is having problems, make sure they contact their internet provider and inform them of the situation. It's also possible that your router is malfunctioning; in this case, it might be best to reset it entirely.
Here are some methods for fixing CE-35287-5 if you have an affected console:
Fix 1: Check for PSN server status.
From time to time, the PlayStation Network servers may go down. Visit the official server status page to check if there's a problem with any of the PSN servers: https://status.playstation.com/.
Fix 2: Enter the correct username and password.
If there are no current server problems, the next step you can take to resolve PS4 error CE-35287-5 is to ensure that you are entering the proper username and password. To do so, use a secondary device such as a smartphone or laptop to log into your account.
Here's what you need to do:
Go to the PlayStation sign In page and open a web browser.
Enter your email address and click Next.
Type in your Password and click the Sign In button.
If your sign-in succeeds, restart your PS4. Then, after it has been restarted, sign back in and make sure you use the same identical credentials.
Fix 3: Verify your PSN account.
For some people, fixing the PS4 error CE-35287-5 means checking their email and following the step-by-step instructions to verify their PlayStation Network account. If you haven't already, check your inbox for any verification notification from Sony to ensure that you do it now.
Check your spam folders if you have them; double-check that the email message was not incorrectly labeled as spam if you have spam filters enabled.
Fix 4: Power cycle the router.
When a connection problem occurs on your console, the first thing you should do is restart your router. Routers can sometimes freeze or become unresponsive if left on for an extended length of time.
Simply turn the router off, unplug it from the wall for 30 seconds, and then restart it. This is referred to as a power cycle and should be enough to refresh the system and, hopefully, remove any bug that is causing the CE-35287-5 error.
Fix 5: Run a speed test.
Another tip is to test your internet connection by running a speed test. Your PS4 may be having difficulties establishing a solid connection with the servers. To play an online game, you'll need at least 5 Mbps download and upload speeds.
If there's no signal interference, try connecting the PS4 directly to the router with a LAN cable. If your PS4 is properly functional and the CE-35287-5 error won't reappear, you may have a faulty wifi connection at home.
Fix 6: Contact Sony Support Team.
If you're certain there's no server problem and none of the techniques in this article have worked to fix the PS4 error CE-35287-5, you should contact Sony.
Conclusion
If you're seeing the PS4 error CE-35287-5, there are a few things you can try to fix it.
First, check for any server problems.
Next, make sure you're using the correct username and password.
You may also need to verify your PSN account.
Finally, power cycle your router or run a speed test to ensure that your internet connection is working properly.
If none of these solutions work, contact Sony support for further assistance.