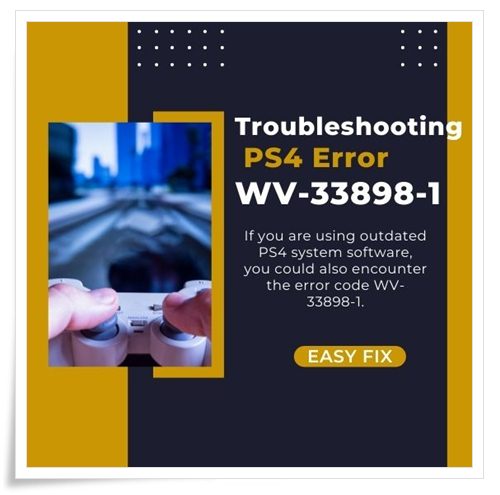 What is PS4 error WV-33898-1? Why does it occur?
When there is no Internet connection, WV-33898-1 occurs most often. As a result, users are unable to utilize their apps or go online on their console.
The screen can display three different error messages:
WV-33898-1: There's been a problem with the application.
The page cannot be displayed. (WV-33898-1)
The voucher you're attempting to use is invalid.
If you're having trouble with your PS4, we've got the solution. You can use this approach to solve PS4 error code WV-33898-1 if you're having issues with your PlayStation 4. First, make sure the Connect to the Internet option is selected, that the PSN services are up and running, that your Internet connection is good, and that your PS4 is up to date. We'll go through all of these steps in detail below.
How Do I Fix PS4 Error WV-33898-1?
Check the PSN status
If there's a general network connection issue, all you can do is wait for Sony to fix it. When the PlayStation servers are undergoing maintenance, Error WV-33898-1 may appear. Check your region's PlayStation Network status on the official PlayStation website. If that isn't the case, restart your modem/router and console and try again.
Check your connection and switch to a cable connection
If you're having trouble connecting to the internet, try switching connections and vice versa to see if it helps.
For a quick fix, let us know if your computer or network devices are experiencing difficulties. We also recommend unplugging your modem and router for two minutes to reset them.
To establish the Internet connection to your PS4 console, you may plug them back in after they've been unplugged for two minutes.
After you've done all that,
You can test your PS4 network connection status by going to your
Home Screen
Settings
Network
Test Internet Connection.
Disconnect other devices
If other devices are using the network, there might not be enough bandwidth left for your console. Disconnect all the other devices and check to see if your console has enough bandwidth now.
Change DNS settings
To set 8.8.8.8 and 8.8.4.4 as your DNS servers,
Follow these steps:
Navigate to Settings
Select Network
Go to Set up Internet connection option
Choose Wi-Fi or LAN depending on your connection type
Select Custom setup
Use the default IP address and DHCP settings
On the DNS settings page, choose Manual.
Enter 8.8.8.8 for the primary DNS and 8.8.4.4 for the secondary DNS
Update your system software
If you're not running the most up-to-date system software version, you may run into a slew of connection difficulties and problems, including WV-33898-1. Check for updates in Settings > System Software Update.
Rebuild your database
If your home network is functioning correctly, this implies that everything you tried thus far has failed. The console itself could be causing the problem. Many PS4 system file problems can be remedied by rebuilding the database.
Steps for rebuilding your PS4 database
Shut down your PS4
To connect your DualShock 4 controller to the console, use a USB cable.
To turn off your computer, hold the power button until you hear the second beep and then release it.
Select the PlayStation button on the controller.
Safe Mode will be activated on the console.
Select Rebuild Database from the drop-down menu.
Conclusion
If you're still having trouble after trying all of the above, your PS4 may need to be serviced. Contact Sony customer support for further assistance.