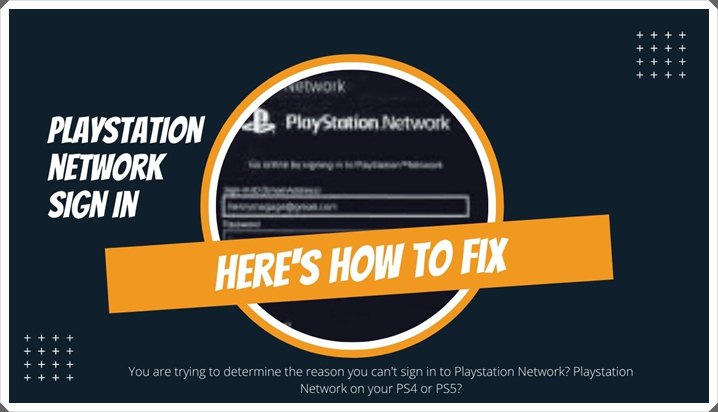 Is it possible that you can't sign in to the PlayStation Network on your PS4 or PS5 because you're trying to figure out why?
The PlayStation Network, often known as PSN or just the PlayStation Network, is an online gaming and media distribution system created by Sony. It was originally designed for the Playstation 3, but it has since been expanded to include the PS4 and PS5.
Users of PlayStation can now access digital copies of games without having to purchase a physical disc thanks to PSN. PS Plus allows players to play online multiplayer games, get special discounts, and more.
While these features are fantastic for enhancing your experience, many gamers have complained about difficulties logging in to their PlayStation Network accounts. If you're reading this, it's safe to assume that you're having the same problem. We'll show you how to proceed if you can't log into your PSN account right now.
Let's get started!
1. Check PSN's Status.
Identifying whether the problem is on your end or with the servers is a crucial first step before making any adjustments to your console. Fortunately, there is a specific page on the Playstation Network that displays its current status.
If something went wrong with the service, this would explain why you are unable to log in to your account. If there's nothing wrong with the PSN's servers, go to the following section.
2. Verify Your Credentials.
This may appear to be a straightforward answer, yet it has actually been verified to work on every platform. If you can't log in to your Playstation Network account, make sure you're using the proper credentials.
It's easy to mix up your accounts, particularly if you leave them logged in all of the time on your device. Before logging into your PSN account, double-check the username, email address, and password that you're using against those listed above.
3. Change Your Password.
Changing your password is another option if you cannot access your PSN account. You may have just changed or forgotten your account's password. In any case, resetting your password would be beneficial.
Here are the steps you need to take to change your PSN account's password:
Go to this website: Playstation Network login page.
Click on "Forgot your password?"
Enter the email address associated with your PSN account and click "Next."
Check your email and find the message from PlayStation Network Support. Open it and click on the link inside.
Enter a new password and confirm it by re-entering it in the fields provided. Click "Submit" to finish.
Once you have finished, go back to your console and try logging into your Playstation Network account.
4. Check and Reset Your Internet Connection.
The most common reason for a PSN login failure is an unstable internet connection. Since the PlayStation Network is an online service, your internet connection might be the source of the problem. We recommend running a speed test on Fast.com to analyze your network's upload and download capacity to rule out this possibility.
If the test reveals that your network is to blame, restart your router in order to restore contact with your ISP. After rebooting your network router, run another test to ensure that it is operating properly. If you have a slow internet connection and are unable to resolve the problem yourself, contact your service provider and ask them to fix it.
5. Check for System Updates.
If your PS4 or PS5's software version is out of date, it will be impossible for the console to communicate with PlayStation's servers. Check for pending updates on your system and install them if necessary.
To check for system updates on the PS4, follow these steps:
Access your PS4's Settings using your controller.
Now, go to System Software Update.
After that, select Update Now and wait for your console to check for available updates.
Click the 'Accept' button if there is an available update and follow the on-screen prompts to install it.
If you are using a PS5, these are the things you need to do:
On your Playstation 5, go to the Settings and access the System tab.
After that, navigate to System Software > System Software Update and Settings.
Lastly, click on Update System Software and choose Update Using Internet.
Wait for your PS4 or PS5 to complete the update, then try signing into your PSN account to see if the problem has been resolved.
6. Restart Your PS4 or PS5.
If you continue to have difficulties accessing your PlayStation Network account or some of its features, try restarting your system. Your PlayStation 4 or PS5 may be malfunctioning due to a temporary bug or glitch.
Follow the instructions below to restart your PS4.:
On your controller, press the PS button until you see the Quick Menu.
After that, go to the Power tab.
To restart your PS4, highlight 'Restart PS4' and press the O or X button to confirm your action.
If you are using a Playstation 5, follow the instructions below to restart your device:
First, locate the PS button on your PS5 controller.
Next, hold it down to access the Quick Menu.
Last, select the Restart option and follow the on-screen instructions.
Wait for your PlayStation 4 to reboot, then try re-entering your Playstation Network account to see if the issue is resolved.
7. Disable Media Server Connection.
The Playstation Media Server Connection allows other devices to connect to your console. If there is a problem with it, it may have an impact on all other connections to and from your PlayStation device. To resolve this, turn off the media server connection on your system and see if the issue goes away.
Here are the steps you need to take:
First, go to your console's Settings.
After that, access the Network tab.
Lastly, open the Media Server Connection tab and disable it.
If you're unable to log in to your PlayStation Network account after disconnecting your media server, try again.
8. Change Your DNS Server.
DNS servers are another cause of poor network connection. Because your ISP's default DNS may be having technical difficulties as of this writing, the quality of your internet may be suffering. To correct this, check to see whether your modem has a settings menu where you can change the default DNS server. The following are the steps you should follow:
On your PS4 or PS5, go to the Settings and click on Network.
After that, select Internet Connection Setup.
Now, choose Use Wi-Fi to connect to your network and click on Custom.
Set the IP Address to Automatic and select Do Not Specify for the DHCP Host Name.
Next, choose the Manual option for the DNS Settings and use the following DNS servers:
Primary DNS - 8.8.8.8
Secondary DNS - 8.8.4.4
For the MTU Settings, select Manual and set the value to 1456.
Lastly, click on Do Not Use for the Proxy Server, then select Test Internet Connection.
Once you have finished setting up your PlayStation account, go back to the sign-in page and try logging in.
9. Rebuild PS4 Database.
If your PlayStation 4 isn't working correctly or you can't use some of its functions, you may try rebuilding its database. This procedure enables your console to identify the most important data on your drive.
Here's what you need to do to rebuild your PS4's database:
First, make sure that your PS4 is completely turned off.
To enter Safe Mode, hold down the Power button for 8 seconds.
Now, connect your controller using the charging cable. To do this, press the PlayStation button on the controller.
Find the "Rebuild Database" option and hit the "X" button to confirm.
If you're still having trouble signing into your PlayStation Network account after repairing its database, try re-entering it to see if the issue is resolved.
10. Reset Your PS4 or PS5.
If none of the methods above helped you, we recommend resetting your PS4 or PS5 to its factory settings. You may have made changes to your console's settings, resulting in an unstable or sluggish internet connection.
Check out the steps below to reset your PS4:
Using your controller, navigate to your PS4's Settings page.
Now, go to the Initialization tab.
Finally, select Restart from the main menu. Follow the on-screen instructions to finish the procedure.
For PS5 users, here's what you need to do:
First, ensure that your PS5 is completely turned off.
When the phone is off, press and hold down the Power button for 7-8 seconds. The second beep should follow after 7-8 seconds.
To power on the PS5, connect your controller to the system with the charging cable and then press the PS button.
Finally, choose "Delete all user accounts" and then "Restore factory settings." Follow the on-screen directions to finish.
If the problem remains after restarting your PlayStation, go back to PSN's login screen and see if it's been fixed.
11. Report the Problem to Playstation Support.
At this point, you've already done everything you can on your end to address the problem. If you can't access your PlayStation Network Account, we recommend that you seek assistance from an expert.
Contact PlayStation's Support team and report the problem you've been having with your account. Make sure to include all of the details in your report, including your device's model and account information.
Conclusion
This concludes our article on what to do if you can't log in to your PlayStation Network account. If you have any queries, please leave a comment below, and we'll try to respond as soon as possible.