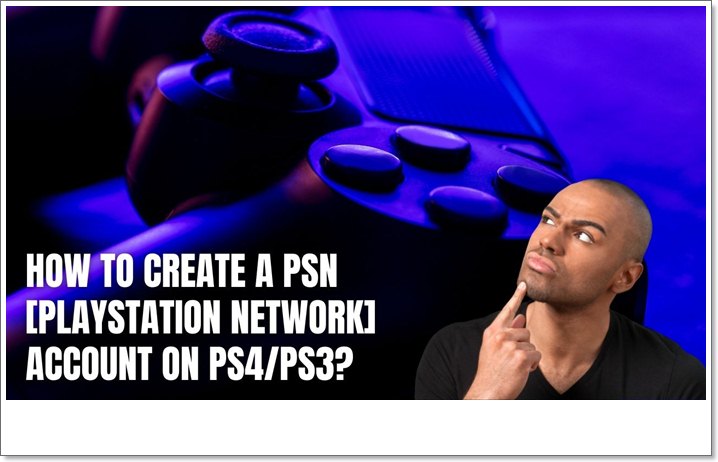 The PlayStation Network, often known as PSN, is an internet platform that connects Sony's various platforms. The service was initially made available for the PS3 hardware. Later, the firm expanded it to include PlayStation 4 and other Sony devices. SNEI (Sony Network Entertainment International), which owns PSN, competes with Microsoft's Xbox Live service
Set up an account on the PlayStation network by following these steps. To access certain features like 100GB online storage, early access to new games, and internet multiplayer, you'll need a premium PlayStation Plus membership ($59.99). Let's have a look at how to sign up for or establish a PlayStation Network PSN account on a browser, PS
How to Sign Up for the PlayStation Network using a Browser?
Step 1:Visit this Sony Entertainment Network page in your web browser. Create a new account by clicking the button. Tap to Create New Account on the PlayStation 4 Sign in screen as well.
Step 2: Start by clicking Start. Then, for your account, provide a genuine email address and a strong password. Next.
Step 3: You will need to enter some details, like your country, state, language and date of birth. Then you can press "Next" to continue.
Step 4: Select whether you want to receive notifications from Sony or not. If you do, select "Agree and Create Account."
Step 5: Open a new tab and find the verification email you received. Click on the button that says "Verify Now."
Step 6: After verifying your mail, return to the Sony Entertainment network page and tap Already Verified.
Step 7: Sony will ask you to enable two-factor authentication in order to keep your account safe. Click Activate and follow the on-screen prompts to activate the authentication method. Tap Skip if you want to enable it later.
Step 8:Select the "I'm an individual" option and click Continue. On the next screen, enter your mobile number and press Continue.
Step 9: Enter the verification code that you received and make sure to link it with your account.
Step 10: After verifying your mobile number, you will be able to see your account dashboard. This is where you can edit other details like your name and gender.
Sign up for PlayStation Network on PS4
You may establish a PlayStation Network account on PS4 and PS3 without using a web browser. Let's discover how to create an account on PlayStation 4.
Step 1:If you have already logged in with another account, hold the PlayStation button and scroll down to the Power menu.
Step 2: Tap the Switch User menu.
Step 3: Press New User menu on the main screen.
Step 4: Tap Create a User.
Step 5: Accept the terms and conditions of PlayStation Network.
Step 6: Tap Next.
Step 7: On the next screen, click New to PlayStation Network? Create an Account.
Step 8: Tap Sign up Now.
Step 9: Fill the necessary details like your country, language and date of birth. Select Next.
Step 10: Enter your postal code, state and city. Click Next.
Step 11: To create a PlayStation Network account, you will need to provide a valid email address and password. After entering that information, select Next.
Step 12: Select an avatar that represents you and your personality. You can find different avatars in different categories.
Step 13: Enter your first name, last name and unique online ID for network.
Step 14: On the next screen, you can set your privacy settings. For each category, there are four privacy options:
Anyone
Friends of Friends
Friends Only
No One
After you set your privacy, click Next to go to the next page.
Step 15: Click Accept to agree with the terms and conditions.
Step 16: Click OK to complete the process.
Step 17: Go to the PlayStation Store on your computer to find and download games. To do this, open the PlayStation Store and select the "OK" menu located under your icon.
Create a PS Network on PS3
Let us see how to create a PSN account on a PS3 console.
Step 1: Open PlayStation network on your PlayStation 3 gaming console.
Step 2: Tap Create a New Account (New Users).
Step 3: Click Continue and enter the required details.
Step 4: Once completed with the details, click Continue.
Step 5: Tap Accept on the consecutive screens.
Step 6: Enter a valid email id and password for your account. Click Continue.
Step 7: Enter a unique ID that contains letters, numbers, and symbols. Click Continue to proceed further.
Step 8: On the next screen, enter your first name, last name and gender (optional).
Step 9: Enter your local information and click Continue.
Step 10: Select whether to receive news, alerts, and other notifications from Sony or not.
Step 11: Verify your location info and click Confirm to complete the process.
Step 12: Now, open your email and find the verification mail from Sony. Click the verification link to activate your account.
Step 13: To start downloading games from the PlayStation Store, press the "OK" button on the PS3 screen.
Do you need help signing up for PSN? Are you having trouble?
Let us know in the comments. We can help!