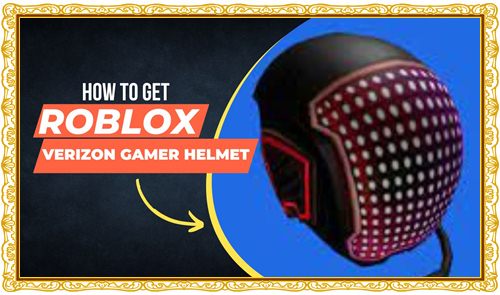 Here's a chance for some Roblox gamers to win an in-game merchandise that is only available through this promotion.
Since the epidemic, Roblox has witnessed a rise in its player count, which has prompted major companies to collaborate with gaming platforms to develop new games, in-game items, and other freebies for marketing.
So far, brands including Sony, Gucci, and Vans have partnered with Roblox to release their games. Previously, popular entertainment programs such as Stranger Things have done the same.
And, as part of this campaign, Verizon is giving away an in-game Helmet to Roblox players in the United States. So here are all the information you need about who can take advantage of this offer and how to obtain the Verizon Gamer Helmet.
How To Unlock Verizon Pro Gamer Helmet on Roblox
The first thing to understand is that this product can only be obtained by Roblox gamers who are Verizon subscribers. There is no alternative way to get the Gamer Helmet outside of being a Verizon customer.
Apart from that, you must also join Verizon's new Verizon Up Rewards program. If you haven't already, simply download the program and join up for the reward scheme. Visit the Reward Center on the app after signing up for Verizon Rewards.
You can have a lot of fun with it. It looks similar to the Roblox Red Devil Helmet, doesn't it? So how will you get started if you're new to this game? You'll need to read on for some great tips and advice.
Here are all kinds of incentives available through Verizon. Now scroll down and look for the Roblox Verizon Gamer Helmet. Select this option by pressing Claim to obtain the bright avatar item.
After that, you'll get a 12-digit code. You must copy this code and go to the Roblox.com/redeem page to redeem the Verizon Pro Gamer Helmet.
Please be advised that these items are only available for a limited time. As a result, make sure you grab it right away!
Conclusion
The Verizon Gamer Helmet is a great way for Roblox gamers to get their hands on some free in-game merchandise.
However, it is important to note that this item is only available for a limited time. As such, make sure you grab it right away if you're interested!