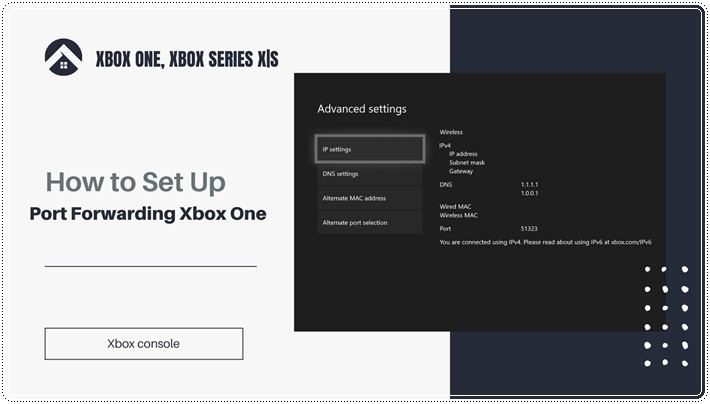 Is your NAT type moderate or strict? NAT, which stands for Network Address Translation, is a necessary evil that frequently inhibits online gaming performance. In-home network routers, NAT is an acronym for normal function.
It's essential to connect many devices to a single Internet connection. When NAT is set correctly, it shouldn't impact online multiplayer gaming on the Xbox Series X. Double NAT is a severe problem that you should avoid at all costs.
Port forwarding is a straightforward procedure that allows your Xbox One X to pass through NAT more quickly. There are several stages in the process of setting up port forwarding.
1. log in to your router.
The first step in establishing a static IP address is finding out your router's IP address. You can check this by selecting Network Settings > Advanced > IP Settings on the Xbox Series X console.
It will then look for the IP address listed on the gateway
Open your browser and go to the URL below. This process will work with any modern web browser, such as Chrome, Safari, Edge, Firefox, etc. Enter the gateway IP address you noted in the previous step into the address bar and press Enter.
Open your router's login screen by accessing it through the administrator interface. You may receive a security warning since many routers utilize a self-signed SSL certificate. There is no problem with this, and there is no need to see it as a problem. Choose to continue anyhow, even if you're using Chrome. If you're using Chrome, you may need to click Advanced to expose this option.
From there, you will see the router's login screen. If you changed the login credentials for your router, you should use them here. You will either enter the default credentials for your router or change them if you did not do so previously.
They may be printed on the bottom of your router or have a different name; look for the Login Credentials label and use it as a guide. The router's management interface will appear once you have correctly entered your login information.
2. Assign a static IP address to your Xbox Series X.
If you haven't already, please go through the following steps to set up your Xbox Series X with a fixed IP address. Your Xbox console must be assigned a static IP address for port forwarding to work correctly.
3. Configure port forwarding.
Xbox series X uses the following ports.
TCP and UDP: 3074
UDP: 88, 500, 3074, 3544, 4500
Depending on the router you're using, the procedure to establish port forwarding will differ. There is a port forwarding section on most routers that you can utilize to customize your settings.
The port forwarding area may be found on some Net gear routers, including the LAN settings. Please see this link for step-by-step instructions based on your router's make and model.
4. Restart your Xbox Series X console and check the NAT type
In the Settings menu on your console, open Network settings and verify the NAT type. It should now show as open. If it doesn't display as open, restart your router and recheck your NAT type.
In most cases, a router restart is not required; however, it may be necessary for certain situations, especially on older routers. You're done when your NAT type displays as open. Take full advantage of your improved online gaming experience.