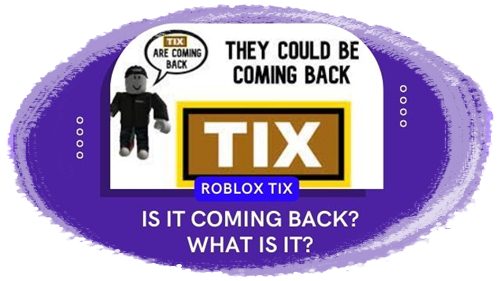 Roblox has been around for a while, and the community has only expanded during that time. Roblox offers a variety of games, each with its own set of features. Many of them are extremely popular, with over 500k players playing on a regular basis.
Roblox is a free online game that allows users to create multiple virtual reality environments. Like many other free-to-play games, it has a microtransaction system.
Robux is the in-game currency of Roblox, and it may be acquired through real money. Robux can be utilized to purchase clothes, among other things.
Roblox's microtransaction system has several problems, including the inability to refund. In fact, the developers were already embroiled in a legal battle over it.
Prior to 2016, Roblox featured another currency known as Tix. If you have been wondering what it is, here is all the information you need to know about it.
What is Tix and why was it removed?
The original name was Tix, and it served as a currency since its inception. Players could earn tix by logging in daily, visiting their Place, and other activities.
Tix could also be exchanged for Robux, which players frequently used to do things like buy game-related items with no cost to themselves.
Given that it was merely a free method to acquire Robux, people began creating additional accounts to increase their Robux reserves, and it nearly entirely destroyed the purpose of Robux.
Because the creators believed it was producing a lot of confusion in the community, it was discontinued in 2016.
Is It Coming Back in 2021?
Tix is one of the most beloved game features on Roblox, but it was removed some time ago. Recently, there have been several reports indicating that Tix may be making a comeback to the game.
A Roblox Twitter account, Roblox Predictions V2, has stated that the company will attempt to reinstate a feature that was previously canceled from the game. This has sparked speculation among players that Tix could return to the game.
Tix, on the other hand, is a lot more unlikely to return. The same Twitter account has previously stated that Roblox may attempt to establish another non-premium currency with additional limitations than Tix.
Tix was misused badly in 2016, and things could get a lot worse in 2021 with the game's current exposure. The use of Tix may severely damage Roblox Corps. income, so it's unlikely to happen.
Conclusion
Though Tix was a beloved game feature, it was ultimately removed due to the confusion and misuse it caused in the community. Recently, there have been reports that Tix may make a comeback, but it is unlikely given the potential damage it could do to the game's income.