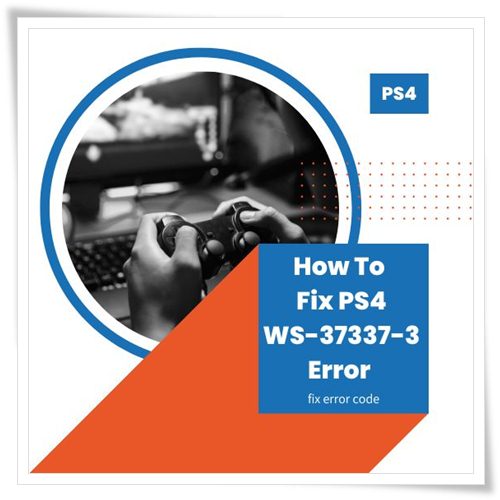 Is the PS4 WS-37337-3 error stopping you from logging into PlayStation Network? We'll tell you what this message means and what you can do to fix it in this post.
What does PS4 error code WS-37337-3 mean?
The error WS-37337-3 means your PSN account has been suspended if you can't access the PlayStation Network on your PlayStation 4 and you're getting this message. The full error message should read: "This account's access to PlayStation Network was banned or restricted."
"Please be advised that your membership with PlayStation Network has been suspended for policy breaches. An email will be sent to the address associated with this account providing further information. Please note that this account does not have access to Sony's online gaming service, Club Sora (WS-37337-3)."
A PlayStation Network account that has been banned or suspended is not authorized to access the network or utilize its features and services. Your purchased games, items, and other digital goods will be rendered unusable as well.
The length of the suspension is determined by the severity of the violation, so you'll have to check your inbox for more information. Sony sends an email notifying you about your account closure as well as the date on which it will be restored.
Causes of WS-37337-3 error code on PS4
There are two primary reasons why your PSN account might be shut down. If you're receiving the WS-37337-3 error, it's probably because one of these things is happening:
Violation of PlayStation Network ToS (Terms of Service) or
CoC (Code of Conduct).
When you create a PlayStation Network account, you have to agree to obey the rules set by Sony. These are called the Terms of Service. Even though it can be hard to read all of the legal language in these rules, that doesn't mean you can break them without consequences.
Sony takes violations of its Terms of Service seriously, so if you disobeyed any of the terms, even if you didn't mean to, you could get a temporary or permanent account ban.
In more serious cases, your PS4 console may be banned from using the PlayStation Network. If this happens, you will not be able to use your PS4 to access the PlayStation Network using any account.
If you break the Community Code of Conduct, your account could be banned or suspended. For example, if you are reported for bullying or harassing another player, your account could be punished.
If you keep violating the terms of service or code of conduct, you might get banned from using your console.
Failure to pay due to issues with your bank.
Your PlayStation account may be suspended temporarily if there is a payment that has not been completed yet. Sony does not tolerate late payments for transactions or subscriptions.
If you get a WS-37337-3 error message when trying to use PlayStation Network, make sure that you do not owe Sony any money. You can do this by checking your bank account.
Sony suspects fraud.
Sony may suspend an account if it sees a possible take-over or an unusual purchase, allowing them to research.
If your PlayStation Network is unavailable and you are experiencing the WS-37337-3 error,
These steps may help to clear up the problem.
1: Check your email.
If Sony bans or suspends an account or console, they will send you an email. Make sure to check your PSN account's email address for additional information.
If you're certain there was no Sony correspondence in your inbox, check your spam folder. You may reach out to the Sony support team if you can't discover any correspondence from them anywhere.
2: Review possible violations of ToS or CoC.
Even though Sony will email you about your account suspension, you can also look at the PlayStation ToS and CoC to find out more information about why you were banned.
3: Check your bank.
If you think that you didn't violate the Terms of Service or Code of Conduct, it's possible that there may be a problem with your payment option. This can happen if you stopped your bank from sending payments to your Sony PSN account, or if your payment option doesn't have enough money.
4: Log into your account on another device.
If you're having trouble logging in with your account, attempt using another device to log in. Try entering your password on a smartphone or another PS4 if you're having trouble logging in from your computer.
Simply log out of your account on your main PS4 and then sign back in if you can access the PlayStation Network on your phone or another console.
5: Contact PlayStation support team.
Account closures and suspensions are final, and appeals are not accepted. If your account is being suspended due to an unpaid transaction or subscription, you may contact them to settle the debt.
If you believe your account has been hacked or used for an unauthorized purchase, you should contact Sony.
It's critical that you talk to Sony before requesting a refund on an unauthorized purchase or payment. Many consumers attempt to obtain a refund without first speaking with Sony, which might lead to an account suspension in the short term.
Conclusion
If you're getting the WS-37337-3 error on your PlayStation Network account, there are a few steps you can take to try and fix the problem. First, check your email for any correspondence from Sony.
If you can't find anything, check your bank account to make sure you don't have any unpaid transactions or subscriptions. You may also want to try logging in from another device. If all else fails, contact Sony customer support.