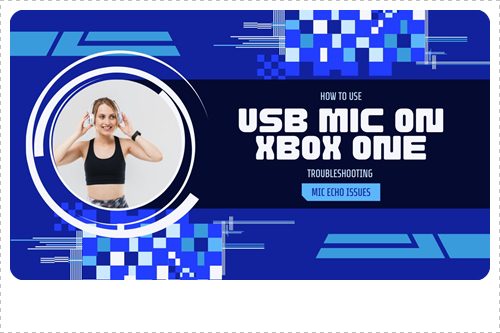 Streaming has never been more popular, and with game consoles like the Xbox One, it's never been a better time for gamers to interact with people all across the world. When it comes to online multiplayer games, having a microphone is useful. It allows players to communicate with friends and teammates, giving them an edge in the game.
If you own an external microphone, you've undoubtedly had problems integrating your USB microphone with the Xbox One. The Xbox's USB ports aren't designed to take in audio input natively, which is why this problem exists.
The good news is that there is a solution. We've discovered a simple fix that will allow you to use your USB microphone with the Xbox One and stay competitive in online games.
USB 3.0 ports are available on the Xbox for connecting accessories like game controllers and the Kinect Adaptor. The ports don't support audio inputs natively, such as microphones. If you plug a USB microphone into the console directly, it will get power but not be able to send sound. As a result, you must use an Xbox One controller to pass audio through to the system. Here's what you'll need.
How To Use USB Mic On Xbox One
First, you'll need a USB microphone. The Blue Yeti USB mic and the Rode NT-USB microphone are great for recording and streaming sound. Regardless of the microphone you choose, it should have a volume knob so that you may adjust the quantity manually.
The volume knob lets you to control how your voice sounds and how it appears to others. Xbox is the only platform that forces you to do so. To connect an extra auxiliary cable, your microphone must have a 3.5mm headphone output as well.
Let's look at everything you'll need in addition to a USB microphone. To connect to your Xbox controller, you'll need the Xbox One Stereo Headset Adapter or the Turtle Beach Ear Force Headset Audio Controller, whichever applies. Because it works well and sounds nice with multiple microphones, I prefer the Xbox One adapter over the Turtle Beach audio controller.
Simply plug the 3.5mm male to 2 female splitter into your computer, then connect the audio cable from it to your headset adapter -> Next, you'll need a Headset Adapter Audio Splitter with labels for headphones and a microphone. The splitter is used to connect to your headset adapter. An additional 3.5mm auxiliary audio cable will be required to join the splitter's microphone end to the other end of the cable which will be connected to your microphone's 3.5mm headphone jack.
You'll need to connect headphones with an audio cable if you want your beats to sound as loud as possible. You should avoid using a gaming headset with a microphone since the microphone and headset audio output may be mixed up. Check out our five simple steps for connecting Bluetooth headphones to the Xbox One.
The Sony WH-1000XM4 headphones include an audio cable, and they sound excellent. The end of the audio splitter that has the word headphones connected should be plugged into your headphones' audio cable.
How To Connect Mic To Xbox One
Let's go through the process of connecting a USB mic to your Xbox One, from beginning to end.
Connect your USB Microphone to the USB port on your Xbox One for power.
Connect the Xbox One Stereo Headset Adapter to your Xbox One controller's back.
Connect the male end of the Headset Adapter Audio Splitter to the Xbox One Stereo Headset Adapter.
Connect the 3.5mm Auxiliary Audio Cable to the microphone end of the Headset Adapter Audio Splitter.
Connect the other end of the 3.5mm Auxiliary Audio Cable to your USB microphone's 3.5mm headphone jack.
Connect the headphones jack on the Headset Adapter Audio Splitter to your device's headphone jack.
To increase or decrease the overall game and chat volume, press the Xbox One Stereo Headset Adapter buttons.
Your microphone and headphone audio will be separately detected by your Xbox now that everything is linked. When you go online, you can talk to other gamers with your microphone while still hearing chat and game sound through your headphones.
How To Fix Mic Lag On Xbox One
Even if your internet connection is fast, you may experience audio delays when utilizing the Xbox One. When playing games, there is a delay before you hear your voice over the stream because of microphone lag.
Mic lag is irritating, and it may have a significant influence on your game performance. If your voice is out of sync with your actions, your teammates may hear callouts too late. When you play online with others, a delay in audio might lead to a variety of issues, as well as the loss of the game.
Fortunately, there is a solution.
Prepare your game to be loaded.
To turn on the assistance, press and hold the round X button on your remote while pressing the guide's red A button.
Load Twitch
Select "Start Broadcasting" to begin your live broadcast.
Allow the Camera Position to fully load.
Start streaming immediately
Return to your game.
Remove the audio cable from your Xbox controller and connect it to your headset, headphones, or microphone.
Insert the audio cable into your Xbox controller again.
Your controller will re-synchronize in a few seconds, and Xbox will align the audio in your headset and webcam. These steps will remove the delay between speaking into your microphone and hearing yourself on stream.
How To Fix Mic Echo Xbox One
Changing the sensitivity of the microphone to "Low" or "Off" in Windows 10 may reduce some of the echo effects that can be heard. Increasing volume too much on a high-quality headset, even if it's not wireless, could cause an echo at extremely loud levels. Using an internal microphone with an Xbox One might produce an echo at high volumes. To fix mic echo problems, try using a gaming headset with a boom mic instead.
If other party chat players tell you their voice is reverberating back to them while they converse with you, reduce the volume on your headset one notch. If a single level isn't sufficient, try two. If everyone else in your party is echoing, it's possible that the Party chat audio on your Xbox has been set to broadcast simultaneously via both headphones and speakers.
To modify the output level of Party chat:
To open the guide on the Xbox console, press and hold the circular X button for one second.
Next, select Settings.
Select General.
Then choose Volume & audio output.
Go to Party chat output.
Change to Headset.
You'll notice that the chat will now only come through your headphones, and there won't be an echo any more.
How To Make My Mic Louder On Xbox One
If you're using an official Xbox One headset or headset adapter and wish to adjust the amount of incoming voice chats, there is no need to change any settings. The volume may be increased or decreased by pressing the "+" and "-" buttons on the right-hand side of the section that connects to your controller.
If you don't have an official headset or adapter linked to your Xbox One controller, follow these steps to adjust the incoming voice chat volume:
How to change incoming voice chat volume on Xbox One
Connect your headphones to your controller and press the "Xbox" button.
Select the System tab.
Select audio from the menu.
Set the Headset chat mixer to your personal preferences.
To increase the game's sound, slide the bar to the left.
To draw attention to the voice in a conversation, place the bar on the right.
How to change outgoing mic volume on Xbox One
Attach your headphones to the Xbox button.
Select the System tab.
Select Sound from the options menu.
Set the Mic monitoring option to On or Off.
To lower the microphone level, move the bar to the left.
To raise the microphone level, drag the bar to the right.
Conclusion
If you're having trouble with mic echo, there are a few things you can try to fix the problem. First, check your settings to make sure that the party chat is only being output through your headphones.
If that doesn't work, try adjusting the sensitivity of your microphone or lowering the volume.
Finally, if you're still having trouble, you can try using a gaming headset with a boom mic. With a little troubleshooting, you should be able to fix the issue and get back to enjoying your game.
FAQ
Can you use a usb mic on xbox one?
Yes, you can use a USB mic on Xbox One. You just need to connect it to the controller via the 3.5mm jack.
How long does an xbox one last?
An Xbox One will last anywhere from 2-4 years before needing to be replaced. The average lifespan of an Xbox One is about 3 years.
How to power xbox one without brick?
To power an Xbox One without a brick, you will need to use a special power supply that is designed for the console.
How to throw in gang beasts xbox one?
There is no specific way to throw in Gang Beasts on Xbox One, but you can try using the left bumper and right trigger simultaneously.
How to use xbox one controller on ps4 no adapter?
You can use an Xbox One controller on a PS4 by using a third-party adapter.
How to adjust aspect ratio on xbox one?
To adjust the aspect ratio on Xbox One, go to the display settings and select the desired ratio.
How to connect xbox one to tv without hdmi?
You can connect an Xbox One to a TV without HDMI by using component cables or a composite cable.