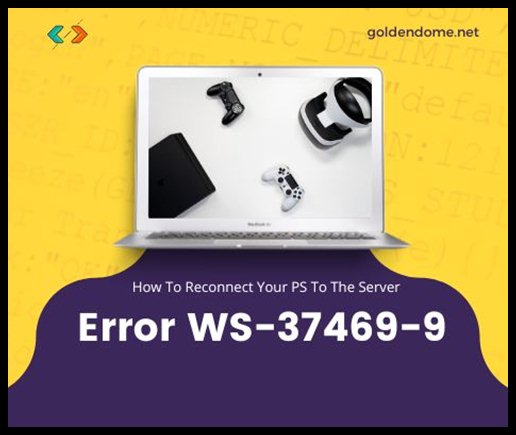 Do you get the WS-37469-9 error code while trying to play online or use the PS network on your PS4? This code will display when the Sony PlayStation server is down. Your system will not be able to communicate with the PS database due to this problem.
If your PlayStation 4 has a persistent connection problem, resetting the router can help. The PS4 NW 34345 9 code is also useful for resolving this error. When these issues show up on your screen, you'll usually only be able to verify PlayStation's service status, and be patient until the technical difficulty is fixed.
In this article, we'll explain what the WS-37469-9 error means and how to troubleshoot your console in order to resolve it. We'll also cover how to reset your PS4's network settings quickly, as this might trigger a PlayStation error code.
What is the error WS-37469-9?
When a PlayStation 4 console is unable to connect to the PlayStation server, this error message will appear: WS-37469-9. You will not be able to play online games, connect to the PlayStation Store, or access your account information if this problem arises.
When the PlayStation server goes down or your device has a network connection issue, the PS4 error code will display. This would disrupt the link between your gaming device and the PS server.
If the PlayStation server is down for technical maintenance, you will be unable to contact the PS4 database if an outage occurs. If you get an error WS-37469-9 while the PS server is up and running, there could be a network problem on your console.
There are two more potential reasons for this;
1. Poor internet connection
If your PlayStation 4 does not connect to a steady network connection, it might give you the PS4 error code. This is due to the fact that your Sony console's request to access the PS server will time out. You'll need at least 5Mbps bandwidth in order to access the PS Network.
2. Outdated PlayStation firmware
If you leave your PS4 on an old operating system, it will have performance and connection problems. When the older software attempts to connect to the newer server software, it will be prone to malfunction.
How to fix error WS-37469-9
The PS4 error WS 37469 9 is caused by the PlayStation server going down. You won't be able to fix the problem if this happens as a result of maintenance or a outage.
You will, however, be able to keep track of the PSN Network's status and stay up to date on the servers' performance. Here you may see whether all services are down or just a certain feature from the PS network is not functioning.
If you get the WS-37469-9 error and the PSN network service status page shows that the server is up and running, follow one of the procedures below to troubleshoot your system. These options can assist you in achieving a successful network connection with your PS4 to the server;
1. Restart Wifi router
To reconnect to your network service provider, reset your modem. This will help you gain back lost bandwidth speeds and fix any internet performance problems caused by your Wifi.
Unplug your router and leave it idle for at least 2 minutes before restarting your PlayStation 4.
To ensure that you have enough bandwidth to play online with your PS4, check your internet speed.
2. Update PlayStation firmware
However, if your PlayStation 4's system software is damaged, it will be unable to complete a successful upgrade. You can modify your preference for how you wish to update the firmware on your PS4.
With the PS4 error WS-37469-9 code, you may need to shut your system down for a few hours before attempting to connect online.
How do I reset my PS4 network settings?
The PS4 error WS-37469-9 might be due to incorrect network settings, or an issue with your existing network configuration. If a power reset on your Wifi router and a system software upgrade does not solve the problem, you may need to reset the network settings on your console.
This is a simple procedure that will allow you to reconnect your Sony device so it can establish a secure connection.
To reset your PS4's network settings, follow these steps;
From your PlayStation home menu, choose "Settings"

Did you know; between the years 2000 and 2005, it was illegal to purchase a PlayStation in China. This was due to a nationwide ban during this period.

Press 'Initialization' until you can do so.
Select 'Restore Default Settings' from the drop-down menu.
Please select 'Yes' to confirm that you wish to continue.
By selecting 'Restore,' you will confirm your decision.
Any data has not been erased.
You will, however, need to resend configuration settings such as your date and time.
What does NW 34345 9 mean?
If your PlayStation 4 won't connect to the PSN, you'll see "NW 34345 9" on the screen. Because if the PS Network is down, when you try and play online, the error code will display. If you're having difficulties with your internet connection, or if Sony's firmware needs updating
You won't be able to repair your console's connection if the PS network is down. You'll have to wait until the technical issue is resolved. If the problem isn't solved because of additional causes, you'll be able to troubleshoot your PS4 system.
How do you fix error code NW 34345 9 on PS4?
To prevent the NW 34345 9 error code from occurring on your PS4, you can use one of the following methods:
Disconnect your PS4 from its main plug point in order to restart it.
To reset your Wifi router, you will need to unplug it from the wall and plug it back in.
Connect your console to your modem using an ethernet cable.
Update your PlayStation firmware.
If none of these steps help, there may be a hardware problem with your system that must be addressed further.
Conclusion
If you are receiving the PS4 error code WS-37469-9, it is likely due to an issue with your internet connection. You can try restarting your wifi router or updating your PlayStation firmware.
If neither of these steps work, you may need to reset your PS4's network settings. If you continue to have difficulty connecting to the PSN, there may be a hardware problem with your console that needs to be addressed.