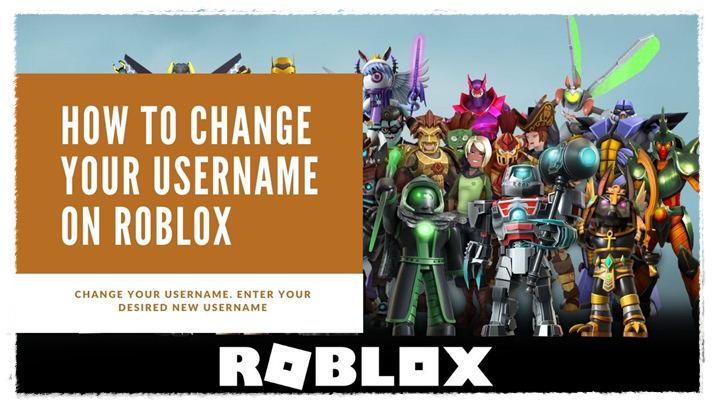 If you are tired of playing Roblox with the same username, you have come to the right page! It's easy to change your Roblox username if you know the correct steps.
Roblox allows you to change your display name, and the best way to change your Roblox username or display name is through the settings in your account information. To change the display name, you will need 1000Robux.
This tutorial will show you how to rename Roblox with and without Robux.
Then let's get started.
But before doing anything else, download the latest version of Roblox and make sure it's not the app that's causing this problem.
How to change your name on Roblox
Changing your username is easy if you have more than 1,000 Robux in your existing Roblox account.
However, before changing an existing display name in Roblox, you need to keep the following in mind.
You cannot use a name that belongs to another account.
Also, You cannot exchange your username with an alternate account.
You cannot change your display name if it is a simple change, such as capitalizing your name or letters of the alphabet.
You must agree to the above terms before continuing to change your display name.
Also, check out the free list of Roblox admin commands for premium in-game features.
Below are the steps to change your Roblox username.
Log in to your existing Roblox account.
Go to Account Settings under the gear icon in the upper right corner of the screen. For the mobile app, look for the three-dot icon under Extras.
Select the Account Information tab.
Select the Edit Username button and enter your new username and current Roblox password.
Press the Buy button. This mod requires 1,000 Robux.
Why does it cost 1000 Robux to change my username?
Changing a name on Roblox costs 1000 Robux because many people try to claim as many usernames as possible on multiple accounts. So the Roblox developers decided to charge 1000 Robux for each username change to reduce this situation.
Roblox discourages users from changing their names. When users change their usernames, it is difficult to ensure that they are always the same person.
How to Get a Display Name in Roblox(Opens in a new browser tab)
Suppose that Roblox allows users to change their usernames for free, and a Roblox player named Bobby1234 joins the gaming group and is kicked out for inappropriate behavior. He would surely seize the opportunity, change his name for free, and rejoin the group without verifying his identity. Other players are uncomfortable with this type of behavior.
How many times can I change my username on Roblox?
There is no limit to how often you can change your username on Roblox. The name change process is a paid service. As long as a user has 1,000 Robux on their account, they can change their name frequently.
Also, there is no cooldown timer for renaming. You can change it whenever you want.
Go to the next section to generate a name for Roblox without Robux.
Change your Roblox username without Robux
You need an authenticated email account to change your Roblox username for free.
Normally, you have to pay 1000 Robux to change your username.
Here are the steps to change your Roblox username for free
Go to roblox.com/support from your browser.
Fill in your contact information exactly as you did for your existing account.
Select the device you are having trouble with.
Select "User Security Issues", "Inappropriate Games," or "User Behavior" from the help types.
Describe the problem as shown in the following line.
Hello, my name is Roblox. I am the father of (your name), and I am concerned about my child's safety on Roblox. Therefore, I have endeavored to include his first and last name (which does not apply to names like MrOofydachirstmaspoo) in his username. This situation worries me because I don't want people on the Internet to know my son's name. Also, I have no money to spend on Robux during a Covid-19 pandemic. Thanks for asking, please contact me asap and have a nice day.
Wait for a response from the developers; eventually, they will allow you to change your username only once.
How to get a Roblox username
Forgetting your username or password is a common problem for anyone who plays many games, and Roblox takes every possible step to recover forgotten information.
How to Reset Roblox Password(Opens in a new browser tab)
Here are the steps to recover your Roblox username and password
Go to the login page and click on Forgot username and password.
Enter the email address or phone number you used when you signed up for your Roblox account.
A recovery message will be sent to both sources, and you will be able to log in to Roblox to verify the information.
Frequently Asked Questions
Q. How can I change the Roblox name on my iPad?
A. To change the name of Roblox on your iPad, you need to do the following.
Log in to your account and go to the Account Info tab.
Edit your username and click "Buy".
This process will cost you 1000 Robux.
It is expensive, so be smart and change your username.
Q. How much Robux does it take to change a name?
A. 1000 Robux is needed to change the username. There is no discount.
Q. How do I change my name in Adopt Me Roblox 2020?
A. When you enter the game, click on the tray bar and select Dress Up. Next, find your name at the top of the game and tap on it. Finally, delete the existing name and rename it to whatever name you want.
Q. How can I delete an old user name in Roblox?
A. It is not possible to delete an old username in Roblox. Your old username will appear under your new username and be visible to other players.
Q. Can I revert back to my old Roblox username?
A. It is possible to revert back to your old username, but it will cost you 1000 Robux.
Q. Can someone steal my old username?
A. No, your old username will not be hacked or stolen if you change to a new one.
Q. Does the Roblox login day change from the original day?
A. No, the login date will not change, and the original account creation date will be carried over to the new username.
Q. If I change my Roblox username, will everything still work?
A. No. Your game data will not be deleted or changed. You will still be able to use your existing game data under your new username.
Conclusion
Due to the lack of a name change card, Robux makes it easy to change your username, but remember that you can only change your username once. If you want to change your name more than once, you will have to open a new Roblox account.
In this case, you can download Roblox from its official website, register with a new account, and start over.